ALL Subs receive 100 Rating Points.
" *TABLE TALK OR COACHING WON'T BE TOLERATED* "AUTOMATIC DQ"
Players in a 1vs1 tournament must sit directly across from each other. Sitting next to
your opponent is a form of cheating and will not be tolerated in Misfits.

Players may skip turns unless specified otherwise by the hosting TD before the tournament begins.

An exception to this would be a Anything Goes tournament, where players can go around home to hit their opponent or skip turns, anything the game allows.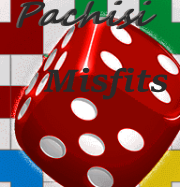 REG 1V1
Opponets have To sit across from each other.

Race Car is the only First Pawn Home permitted in Misfits.